LUM-242H : 24'' 4K/UHD High Brightness HDR Emulation Monitor
The LUM-242H is a 24 inch monitor with UHD resolution (3840 x 2160), high luminance up to 1,500cd/㎡, a 10-bit color depth, high contrast ratio of 1,000 : 1 and wide viewing angle. The LUM-242H supports various standard color gamuts including 90% DCI-P3 coverage. It supports 12G-SDI signal with 4 BNC input connectors (2 for 12G-SDI and 2 for 3G-SDI) and an HDMI 2.0 input.
Coming Soon!!!!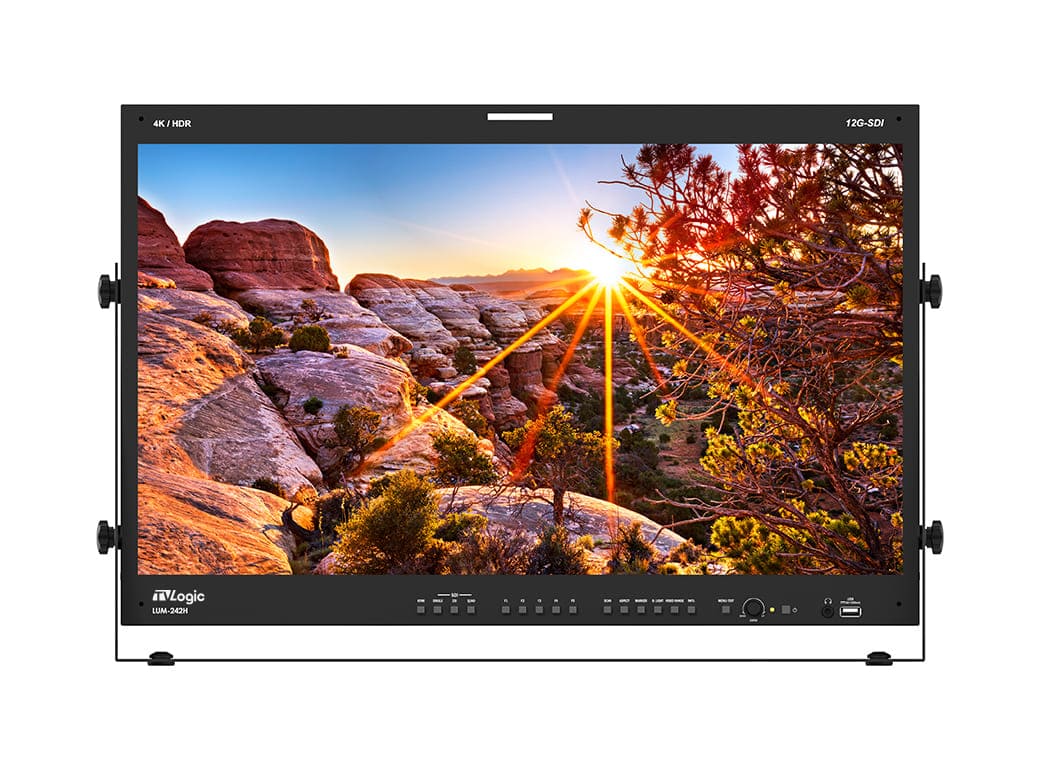 Choice: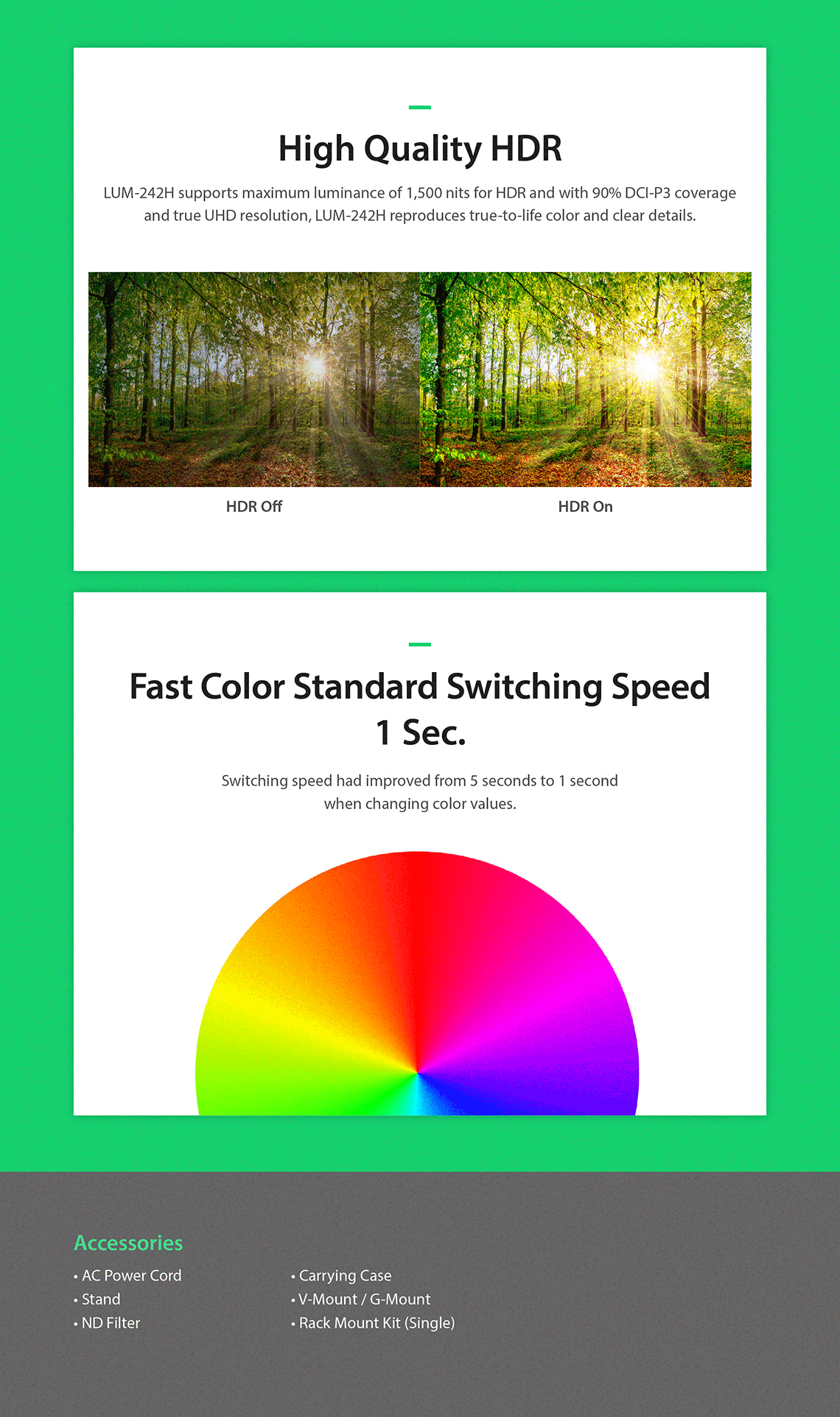 HDR Emulation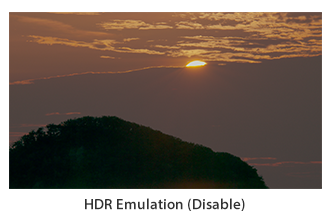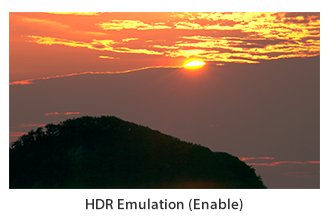 The HDR emulation function allows users to check how an HDR image will look at the shooting location. Adjustable modes are PQ, HLG and SLog3.
Display Spec.
| | |
| --- | --- |
| Size | 24" |
| Resolution | 3840 x 2160 (16:9) |
| Pixel Pitch | 0.137mm |
| Color Depth | 1.07B |
| Viewing Angle | 178°(H) / 178°(V) |
| Luminance | 1500 cd/m2 |
| Contrast Ratio | 1,000:1 |
| Display Area | 527(H) X 296(V) mm |
Input
| | |
| --- | --- |
| 4 X BNC | 12G-SDI A/B Channel Input, 3G-SDI C/D Channel Input |
| 1 X HDMI | HDMI Input |
Output
| | |
| --- | --- |
| 4 X BNC | 12G-SDI A/B,3G-SDI C/D Channel (Loop Through Out) |
Input Signal
| | |
| --- | --- |
| 3G SDI | 2.970Gbps |
| 12G SDI | 11.880Gbps |
| HD SDI | 1.485Gbps |
| SD SDI | 270Mb/s |
| HDMI | 480i/480p/576i/576p/720p/1080i/1080p/2160p |
SDI Input Signal Formats
| | |
| --- | --- |
| SMPTE 425M-A/B | 1080p (60/59.94/50/30/29.97/25/24/23.98/30sF/ 29.97sF/25sF/24sF/23.98sF) / 1080i (60/59.94/54) |
| SMPTE 296 | 720p (60/59.94/54) |
| SMPTE 274 | 1080i (60 / 59.94 / 50) 1080p (30/29.97/25/24/24sF/23.98/23.102sF) |
| SMPTE 260 | 47.95/48/50/59.94/60p) |
Audio
| | |
| --- | --- |
| Audio In | Embedded Audio/Analog Stereo (Phone Jack) |
| Audio Out | Analog Stereo (Phone Jack) |
FPGA Functions
, 3G-SDI Level A/B, Audio Level Meter Display, Blue Only, Focus Assist, H/V Delay, Key Lock, Luma(Y') Zone Check, Marker, Max Brightness On/Off, Mono, Range Error, Time Code Display, UMD, User Aspect, Various Scan Modes, Waveform/Vector, SingleMode
Closed Caption
CC-608 ANC, CC-608 LINE 21, CC-708
Calibration
TVLogic Color Calibration Utility, 3D LUT & Adjustable Gamma, 3rd Party 3D LUT Import
Other Functions
| | |
| --- | --- |
| REMOTE | GPI (RJ45) |
| REMOTE | TVLogic's specification |
| USB | Firmware update by USB memory stick |
| Ethernet | Ethernet Control support |
Options
Stand, Carrying Case, ND Acrylic Filter, V-Mount
Dimensions

| | |
| --- | --- |
| Product Brochure (1 Page) | - |
| Manual | - |
| Leaflet | - |
| Total Brochure | Download |